Realistic Drawing with Graphite and Charcoal
Realistic drawing with graphite and charcoal requires that you know what to look for in your reference photo or real-life object and to recreate it on paper.
Here is a realistic drawing that I did of a girl looking through a wall.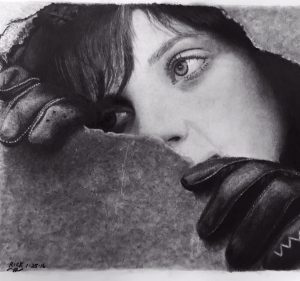 While many beginning and novice artists initially believe they are putting what they see on paper, when they are done they wonder why it does not look like the original.
The reason is simple. They actually drew what they thought they were seeing, not what is actually there.
Because of this, it is important to understand what exactly you should be looking for, and also to learn some tricks and techniques to help you out.
The RixCanDoIt Realistic Drawing group is a free group for anyone who likes to draw and wants to improve. It is a place where artists of all skill levels are welcome to share their drawings with the group and to ask for suggestions and critiques.
My suggestion is to first subscribe to the RixCanDoIt YouTube channel if you have not already done so at https://www.youtube.com/rixcandoit and then head on over to the Realistic Drawing group and request to join at https://www.facebook.com/groups/rixcandoit/,
Many artists have requested that I look at their drawings.
While I certainly cannot possibly do this for everyone who asks because there are so many, I do try to look at as many as possible.
But some have also asked that I give 'suggestions' or 'critiques'.
So in order to make it easier to check out as many drawings as possible, and to provide a place for pencil artists to share their work with others, I have setup a Facebook group.
https://www.facebook.com/groups/rixcandoit/
So come on over and join the group.
For some of you that post your drawing and ask for suggestions/critiques, I will ask you to post the original reference photo and your okay to have it appear in one of my videos.
🙂
Rix
https://rixcandoit.com/2018/03/15/how-to-draw-a-realistic-face-how-to-draw-exactly-what-you-see/